USS Noa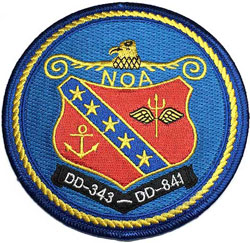 USS NOA DD-343 / DD-841 REUNION
2019 – 28th Reunion for the USS NOA 00-343/00-841
February 19, 2018
Holiday Inn
3327 Street Road
Bensalem, Pennsylvania 19020
APRIL 23rd – 28th, 2019
Message from our President:
Greeting Shipmates, Families and Friends,
The city of Philadelphia, filled with our country's history, will be our next reunion location. Your visit will include tours of Philadelphia with its famous Philly Steak Sandwich, Valley Forge, the Battleship USS New Jersey, and reconnecting with your shipmates.
Click here for a full copy of this letter and a membership form.
Click here for a 2019 Reunion Registration Packet.
Our search for your fellow shipmates continues, so if there is someone you have thought of, we will try and find them. Please let Karen Barrie or Chris Waugh know and the search will begin. Please remember to bring your photos, USS NOA letters, and cruise books to share so everyone can continues to enjoy those memories.
The USS NOA Reunions is successful by your continue participation and we look forward to seeing you and your families this April in Bensalem, Pennsylvania.
Best Regards,
–Robert L. Barrie
–President of the USS NOA Reunion Association
USS NOA BASIC INFO
USS Noa may refer to:
USS Noa (DD-343) – was a Clemson-class destroyer in the United States Navy following World War I. She was named for Loveman Noa (see DD-343 Wikipedia article here).
USS Noa (DD-841) – was a Gearing-class destroyer of the United States Navy, the second Navy ship named for Midshipman Loveman Noa (1878–1901). Noa was laid down by the Bath Iron Works, Bath, Maine, on 26 March 1945; launched on 30 July 1945, sponsored by Mrs. James Cary Jones, Jr., wife of Rear Admiral James Cary Jones, Jr., USN; and commissioned on 2 November 1945, Commander R. L. Nolan, Jr., USN, in command. (see DD-841 Wikipedia article here).
Articles about USS Noa
"The Last Powder Monkey, A Tale of Peril, Courage, and gross ingratitude on the old China station", by Roy C. Smith III, American Heritage, July/August 1996, Volume 47, Issue 4 (click here to read the article and to view photos)
"Gunboat Diplomacy on the Yangtze", by Richard K. Kolb, VFW, April 1991 (click here to view article).
Ship Photos
Blueprints