USS Noa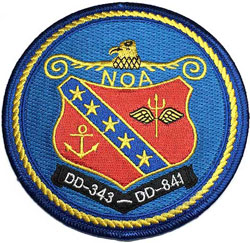 USS NOA DD-343 / DD-841 REUNION
Message from our President:
The next USS NOA reunion will be held in New Orleans, LA. on September 11th – 16th, 2108, Tuesday thru Sunday. We will be staying at Copeland Tower Suites in Metairie, LA.
Due to the high cost of hotels ($275.00 plus per night) in April and May during the Jazz Festivals events which are held every weekend, the reunion was moved to September.
Reunion packets were emailed to all members. Members who do not have email were mailed a paper copy. Please make sure we have your updated email and contact information. Click here for a copy of the Reunion Packet.
Looking forward to seeing fellow shipmates and their families in New Orleans,
–Robert L. Barrie
–President of the USS NOA Reunion Association
USS NOA BASIC INFO
USS Noa may refer to:
USS Noa (DD-343) – was a Clemson-class destroyer in the United States Navy following World War I. She was named for Loveman Noa (see DD-343 Wikipedia article here).
USS Noa (DD-841) – was a Gearing-class destroyer of the United States Navy, the second Navy ship named for Midshipman Loveman Noa (1878–1901). Noa was laid down by the Bath Iron Works, Bath, Maine, on 26 March 1945; launched on 30 July 1945, sponsored by Mrs. James Cary Jones, Jr., wife of Rear Admiral James Cary Jones, Jr., USN; and commissioned on 2 November 1945, Commander R. L. Nolan, Jr., USN, in command. (see DD-841 Wikipedia article here).
Articles about USS Noa
"The Last Powder Monkey, A Tale of Peril, Courage, and gross ingratitude on the old China station", by Roy C. Smith III, American Heritage, July/August 1996, Volume 47, Issue 4 (click here to read the article and to view photos)
"Gunboat Diplomacy on the Yangtze", by Richard K. Kolb, VFW, April 1991 (click here to view article).
Ship Photos
Blueprints