USS NOA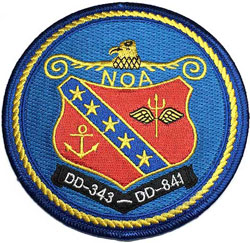 Message from Bob Barrie, USS NOA Reunion Association President
Our 2021 USS NOA Reunion in Jacksonville/Mayport, Florida has been cancelled. We have rescheduled for April 26th – May 1st, 2022.
Good news!!! The Lexington Hotel has been purchased by Marriott Bonvoy – Southbank Hotel Jacksonville Riverwalk, 1515 Prudential Drive, Jacksonville, FL 32207. Joy Penrod is working with the hotel as they have agreed to honor our same hotel rates on our contract.
If you have any questions you can reach us at 727-289-6534 (home).
Please stay safe and healthy,
Bob Barrie, USS NOA Reunion Association President
Lexington Hotel
1515 Prudential Drive
Jacksonville, FL 32207

Message from our President:
Attention on Deck – All Shipmates, Families and Friends
Please report for the USS NOA Reunion in Mayport – Your Homeport.
We are returning to Jacksonville Riverwalk for your stay in the Lexington Hotel (once the Wyndham Hotel). Your hotel has beautiful spacious rooms and our Hospitality Room is perfect for you all to reconnect and YES, we can have beer, wine, drinks and food in our room.
You reunion will be full of exciting tours, especially Mayport Base.
We want to thank everyone who attended our last reunion in Philadelphia – town full of history, great tours and yes, the famed Philly sandwich. A special thanks to Larry and Pam Robbins, Robert and Dorothy Matlock for hosting the reunion.
This year's reunion will be coordinated by John & Beverly LaMonica, Paul Macko and John & Cathy Griffin.
Click here for a FULL copy of the President's Message and Membership Form.
Our search for your fellow shipmates continues, so if there is someone you have thought of, we will try and find them. Please let Karen Barrie or Chris Waugh know and the search will begin. Please remember to bring your photos, USS NOA letters, and cruise books to share so everyone can continues to enjoy those memories.
The USS NOA Reunions is successful by your continue participation and we look forward to seeing you and your families in Jacksonville – Mayport, Florida.
Best Regards,
–Robert L. Barrie
–President of the USS NOA Reunion Association
USS NOA BASIC INFO
USS Noa may refer to:
USS Noa (DD-343) – was a Clemson-class destroyer in the United States Navy following World War I. She was named for Loveman Noa (see DD-343 Wikipedia article here).
USS Noa (DD-841) – was a Gearing-class destroyer of the United States Navy, the second Navy ship named for Midshipman Loveman Noa (1878–1901). Noa was laid down by the Bath Iron Works, Bath, Maine, on 26 March 1945; launched on 30 July 1945, sponsored by Mrs. James Cary Jones, Jr., wife of Rear Admiral James Cary Jones, Jr., USN; and commissioned on 2 November 1945, Commander R. L. Nolan, Jr., USN, in command. (see DD-841 Wikipedia article here).
Articles about USS Noa
"The Last Powder Monkey, A Tale of Peril, Courage, and gross ingratitude on the old China station", by Roy C. Smith III, American Heritage, July/August 1996, Volume 47, Issue 4 (click here to read the article and to view photos)
"Gunboat Diplomacy on the Yangtze", by Richard K. Kolb, VFW, April 1991 (click here to view article).
Ship Photos
Blueprints